"Om Lokah Smastah Sukino Bhavanta"
May all beings be happy.

Hi , As the Autumnal Equinox last Friday ushered in the Fall, we bid the Summer Days farewell and reap the fruits of our labor so far this year.

While the dark hours of night will continue to increase outside, the season calls us to turn inward and strengthen the light within.

September 29th is Yom Kippur - the Day of Atonement - and is a time to start anew.

Another way of reading it could be: a Day of AT-ONE-MENT - a day to realize the ways in which we are interconnected, or sincerely ONE, with the forces of Nature, the seasons, our planet, our communities, and even finding the AT-ONE-MENT within ourselves.
Be Happy. Be strong. No matter your situation.


We'd love to support you in aligning your body, mind and heart so that your True Self can emerge in 2017!
Do More Yoga!


Know Deeply. Feel Deeply. Share Deeply.

This is my approach to teaching and living. Many Blessings. Mary Kay, owner and teacher of Yoga Works of Loveland. I look forward to practicing with you.

I honor and am in awe of the dedicated students of Yoga Works. Without you the studio would not exist. Every day I am in filled with reverence for your commitment to your practice as well as gratitude for your role in cultivating a conscious community." – Kaanti


Try This: Inhale Love...Exhale Gratitude Focus on the Exhale.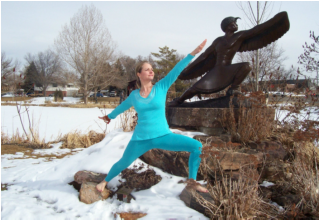 Yoga Works. Loveland's Yoga Studio!


SVAROOPA YOGA.
Svaroopa yoga means "The Bliss of your own Being." The Yoga Sutra 1.3 says, "Tadaa drashtuh svaroope 'vasthanam," promising that the moment your mind becomes quiet, you will abide in the bliss of your own being.
Svaroopa® Yoga
Yoga is easy with the spinal decompression that we call Core Opening – end your back pain and dissolve neck and shoulder tensions in your first class. Freedom from headaches, fewer colds and flu, better breathing and improved digestion/elimination follow – because Core Opening lifts pressure off your internal organs and glands, everything functions better. Stress relief and deep relaxation are intrinsic to the relaxation of your core tensions.

Banish fatigue, enjoy more energy and enjoy a resiliency that supports you when facing life's challenges. While you become progressively more calm, peaceful and (dare we say?) happy, you know it is coming from a deep inner knowing. Svaroopa® is a Sanskrit word that means you know yourself at the deepest level of your being. You can trust yourself as you move into life in a whole new way. Yes, you can do yoga. Wherever you are is the entry point. Svaroopa serves the avid yogi and the beginner. So why wait? Come experience the bliss of your own being.

-Svaroopa® Yoga
MAY THE LONG TIME SUN SHINE UPON YOU,
ALL LOVE SURROUND YOU,
AND THE PURE LIGHT WITHIN YOU,
GUIDE YOU ON YOUR WAY